Welcome to the second episode of "a letter to restaurants", a series in which I try to help and admonish and poke and scold eating establishments who are missing easy opportunities to deliver good experiences to their customers.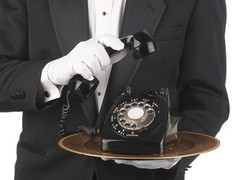 Dear Restaurant:
I call restaurants like you now and then. Many of your customers do. We often need to check the business hours (because who knows if whatever is listed on Yelp is accurate or current), verifying that you still serve a particular dish, or finding out if there's a crowd and a wait time to get in. These are all valid reasons to dial the digits.
Once your phone number is actually located (hopefully it is prominently displayed on the website or directory page) and the ringy-dingy is heard on the other end, it is a most frustrating experience to hear one of these two scenarios as a result:
"I'm sorry. The mailbox belonging to 505-123-3456, is full. Please hang up." <click>
(OR)
"I'm sorry. The number you have dialed, 505-123-2345, has a mailbox that has not yet been set up. Good bye."
W.
T.
F.
You see, by cutting off this avenue of communication, YOU as the restaurant are effectively saying, "hey, we might exist. Come by and see for realz! Seriously!" It's sending the same mixed message as if you had turned on the Open sign and unlocked the doors but barricaded them, or handed over a menu to diners while saying that most of the items are not available today. It makes zero sense AND everyone loses.
Restaurants, learn how to clear your mailboxes and set them up in the first place. Seriously. For realz.